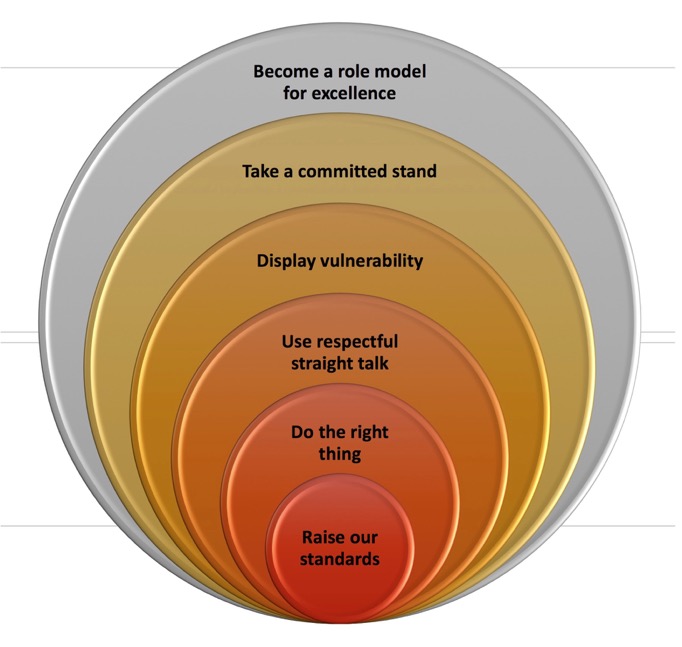 I believe courageous leadership happens when we raise our standards, do the right thing, use respectful straight talk, display vulnerability, take committed stands, and become role models for excellence.
When is courageous leadership needed in our organizations? Every day.
1. When we set goals that stretch our imaginations and abilities
2. When we spend 80% of our energy on solutions, not rehashing problems
3. When we stand up to behavior that violates our values and gut instincts
4. When we balance advocacy with inquiry
5. When we pause to allow a discussion rather than make a command decision
6. When we acknowledge other people's contributions
7. When we sensitively handle performance issues
8. When we choose to fix a problem, not blame
9. When we favor plain talk over management-speak
10. When we constructively confront resistance and combativeness
11. When we make key decisions that impact our people
12. When we choose to listen and learn rather than be right
13. When we display our vulnerability and humanness
14. When we don't take ourselves so damn seriously
15. When we value principles over processes
Takeaway: There is no monetary investment required to implement this list. What's required is arguably more challenging. We must pause, reflect, and decide how we will lead our teams and organizations. We must choose to be leaders that change cultures. We must first lead the toughest critic—ourselves. If the motive is to contribute at the highest level, we are each capable of being courageous leaders. And courageous leaders create legacies of high-performing people and organizations.